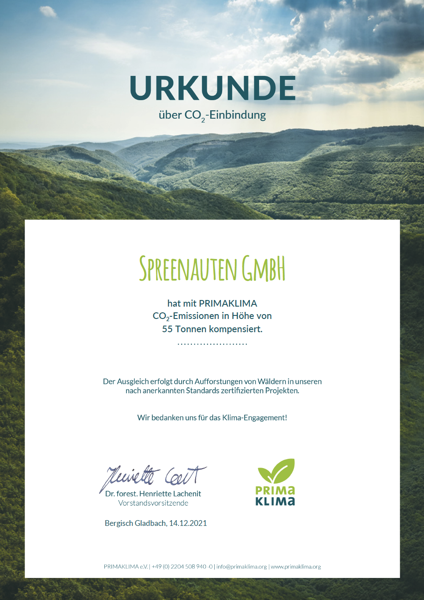 CO2 Compensation Spreenauten
Gepostet am 15/12/2021 21:48
As part of the presentation of our sustainability report for the 2020 business year, we determined our CO2 emissions. We are very pleased that we were able to reduce our CO2 emissions again this year, despite massive growth. This time by more than15%.
 
We offset the remaining 50 tonnes, with a surcharge of 5 tonnes, this year through PrimaKlima e.V. - by integrating them into existing forests in Germany, Indonesia and Nicaragua.
It was important to us that these were existing trees and that the projects met the Gold Standard.
Read more here: 

https://www.primaklima.org/ueber-uns/unsere-projekte/projektstandards/
 
We see offsetting through the purchase of certificates as a building block, not as a solution. In general, we naturally strive for native climate neutrality.